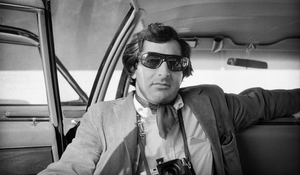 The Most Celebrated and Prolific Photographer of the 20th Century
During the most extraordinary times yet for popular culture, Jim Marshall seemed to be everywhere that mattered. He has been called the most celebrated and prolific photographer of the 20th century and is widely known for his iconic music photography. Because Jim lived the life alongside his subjects, and never betrayed their trust, he was granted second-to-none access. 
Marshall saw himself as an anthropologist and a journalist, visually recording the counter-culture and the explosion of creativity and celebrity in the 60's and 70's. He immersed himself in that world more than any other photographer and became a fixture. He employed a minimum of artifice to document people and events. Not interested in conventional beauty or perfection, Marshall sought to capture character: the simple truth of who a person is. His photo essays on civil rights and political unrest are a testament to his concern for the human condition.
Jim's photos from the Monterey Pop Festival became as woven into the lore of the 1960s as the breakout performances of Jimi Hendrix, Janis Joplin, and Otis Redding. Jim also captured certain moments of unguarded intimacy, such as Janis Joplin lounging backstage with a bottle of Southern Comfort, and Brian Jones and Jimi Hendrix strolling the Monterey fairgrounds. Jim documented Johnny Cash during his groundbreaking concerts for prison reform at Folsom and San Quentin prisons. He shot more than 500 album covers and his photographs are in private and museum collections around the world.  
In death, Jim holds the distinction of being the first photographer to be presented with the Recording Academy's Trustee Award, an honorary Grammy presented to individuals for nonperformance contributions to the music industry. The award was bestowed on the Jim Marshall Estate in 2014 in recognition of Jim's unprecedented chronicling of music history from the 1950s through the early 2000s.
Show Me the Picture: The Jim Marshall Story, the winner of the prestigious Grierson Award The British Documentary Awards for Best Arts or Music Documentary in 2020, is an unflinching look at the man behind the lens.  Marshall was a walking paradox, and despite--or perhaps because of this--he was able to capture the humanity of his subjects. Marshall's images are instantly recognizable, but the artist and man who created these iconic photographs is not as well known. This film, along with the book Jim Marshall: Show Me the Picture (published by Chronicle Books, August 2019), brings Jim into focus.